Hello, Everyone!
AMITY'S NEWS
Amity's Healthcare Group President, Irina Gorovaya, is heading to St. Louis for 2022 NAHC Home Care and Hospice Conference and Expo. This year's theme, Connection 4.0: Link Up!, celebrates one of the most meaningful touchstones of our industry – connection.
Please join Irina Gorovaya on Tuesday, October 25, 2022 for the following presentation:
The Art of Connecting with Telehealth in Home Health & Hospice: New Norm and Opportunities
The COVID-19 pandemic forced organizations to consider the use of telehealth in home health and hospice. The use of telehealth has further expanded with the COVID-19 emergency declaration waivers. This presentation will review the evolution of the use of telehealth in the home and address telehealth coverage and reimbursement.
Tuesday, October 25, 2022 3:45 PM – 4:45 PM
Room: 122/123
Session Number: 801
Home Health ICD-10 Coding and Clinical Documentation Review


With OASIS-E and Home Health Value-Based Purchasing (HHVBP) coming just around the corner, take advantage of the professional assistance to ensure accurate clinical documentation, improved quality measures standing, and optimal reimbursement.
Outsourcing coding and clinical documentation review to dedicated professionals is one of the most effective strategies to strengthen and enhance documentation from regulatory, payment, and legal perspectives.

Our services include:
ICD – 10 Coding
OASIS Review + ICD – 10 coding
OASIS Review + POC (Plan of Care) Review
OASIS Review + ICD – 10 Coding + POC (Plan of Care) Review
Episodic Documentation Review
Quality Trends Analysis and QAPI Development
Are you OASIS-E ready? We are! Let Us Help You!
For more information or a free trial, please contact us at 303-690-2749 or email at ig@amityhealthcaregroup.com

NATIONAL NEWS
Public Health Emergency Extension


On October 13, 2022, the Department of Health & Human Services (HHS) announced another 90-day extension of the Public Health Emergency effective October 13, 2022. This extension is set to either expire or to be  evaluated by January 11, 2023.
HHS will provide a minimum of a  60-day notice prior to the termination of the public health emergency declaration for COVID-19.

Quarterly Credit Balance Reports Are Due Soon

As a reminder, the Medicare Credit Balance Report for the quarter ending September 30th is due by October 30, 2022. The Centers for Medicare & Medicaid Services (CMS) requires participating providers to furnish information about payments made to them and to refund any funds incorrectly paid in a timely manner.




A credit balance is an improper or excess payment made to a provider as the result of patient billing or claims processing errors. Examples of Medicare credit balances include instances where a provider is:
Paid twice for the same service either by Medicare or by Medicare and another insurer;
Paid for services planned but not performed or for non-covered services;
The form CMS-838 is used to report any credit balances.
If your MAC is CGS, please see additional instructions from CGS below:
Use the myCGS Portal to:
Ensure your report is legible and received timely. Don't worry about delivery delays or technical issues with fax transmissions. myCGS allows you to complete and submit the required information electronically and instantly.
Receive confirmation. myCGS will send a message to your inbox to confirm receipt of the form.
Check status. Once accepted, myCGS will also send a message with a submission ID you can use to check the status.
Avoid suspension of your Medicare payments! If we do not receive a completed CMS-838 form and/or certification page for an individual provider transaction access number (PTAN) timely, we will suspend all claim payments at 100%.
Reference the myCGS User Manual (Financial) for step-by-step instructions and submit your Medicare Credit Balance Report in myCGS today!
For general questions about the Medicare Credit Balance Report, please reference our website or call the Provider Contact Center:
Home Health Quality Reporting Program: Non-Compliance Notifications




The Centers for Medicare & Medicaid Services (CMS) is providing notifications to home health agencies  that were determined to be out of compliance with the Home Health Quality Reporting Program (HHQRP) requirements for calendar year (CY) 2021, which will affect their calendar year (CY) 2023 Annual Payment Update (APU).
Non-compliance notifications were distributed by the Medicare Administrative Contractors (MACs) and were placed into Home Health Agencies (HHA) My Reports folders in iQIES on October 14, 2022. HHA's that receive a letter of non-compliance may submit a request for reconsideration to CMS via email no later than 11:59 pm, November 16, 2022.

If you receive a notice of non-compliance and would like to request a reconsideration, see the instructions in your notification and on the Home Health Quality Reporting Reconsideration and Exception & Extension webpage.

Expanded HHVBP Model: New Resources Now Available

New Resource Now Available – Quality Improvement Self-Assessment for Your HHA
The Home Health Value-Based Purchasing (HHVBP) Technical Assistance (TA) Team is pleased to announce the availability of a new organizational self-assessment resource, available on the Expanded HHVBP Model webpage under the "Quality Improvement" section:

Quality Assessment and Performance Improvement (QAPI) Program Self-Assessment: For use by home health agency (HHA) teams as a brief, self-guided, performance improvement activity based on structured review of expanded HHVBP Model performance data by measure category. The forms included in the workbook create simple data visualizations that will allow teams to see patterns in measure performance by category. Teams will self-assess their HHA's performance by measure category for use in planning performance improvement activities.
For questions, please email the HHVBP Model Help Desk at HHVBPquestions@lewin.com.
September FAQs Available
The September edition of the Expanded HHVBP Model Frequently Asked Questions (FAQs) is now available to assist HHAs in understanding common terms used in the expanded Model and requirements under the Calendar Year (CY) 2022 Home Health Prospective Payment System (HH PPS) final rule. The document is available for viewing and download on the Expanded HHVBP Model webpage.

New Federal Data Sharing Rules

On October 6th, 2022, new federal rules from the Office of the National Coordinator (ONC) around data sharing and access went into effect for nearly all health care providers, including home health agencies. The regulations, known as "information blocking" rules, were required as part of 2016's 21st Century Cures Act, and are intended to prevent activity by providers, health IT developers, and health information networks (HINs) & health information exchanges (HIEs) that "is likely to interfere with access, exchange, or use of electronic health information (EHI)".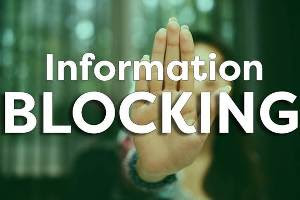 Examples of information blocking include requiring a patient to provide consent before sharing the patient's EHI with other providers for treatment or care coordination (if such consent is not required by law) or taking an extended period of time to respond to an EHI request when the provider has the capability to provide access to the EHI on the same day it is requested.


Involved providers that are subject to the  "information blocking" rules are currently required to adhere by them, however, enforcement of the rules and associated penalties have yet to be implemented in practice. Enforcement process will depend on the future rulemaking that will address information blocking "disincentives" for providers.
Providers are encouraged to familiarize themselves with the requirements of the "information blocking" rules and to inquire from their EHR vendor about the current technical capabilities related to providing EHI access. You can also review your current practices and protocols regarding how you are responding to record requests and in what timeframes.
You can also join a webinar that ONC is holding on the new rules on Thursday, October 27, 2022, at 2pm ET. You can register HERE.

Amity's newsletters will be archived on Amity's Healthcare Group website at https://amityhealthcaregroup.com/resources  under  Resources/ Our Newsletter section.

Please do not hesitate to reach out for any assistance or questions via email, phone, or website at https://amityhealthcaregroup.com/resources
If you wish to forward this email to your colleague or friend, please feel free to do so. If you received this message as a forward, we invite you to subscribe to our communications at https://amityhealthcaregroup.com (look for "Subscribe to Listserv" in the top corner). If you wish to unsubscribe from this email distribution list, please email to eg@amityhealthcaregroup.com
Thank you,
Irina Gorovaya, RN BSN, MBA
Amity Healthcare Group, LLC
Home Health Consulting, Education and Outsourcing Services
720-353-7249 (cell) 303-690-2749 (office) 720-398-6200 (fax)
www.amityhealthcaregroup.com

Confidentiality Notice:
The information contained in this message is privileged and confidential information intended for the use of the individual or entity named above.
Copyright © 2022 Amity Healthcare Group, All rights reserved.
You are receiving this email because you opted in at our website
Amity Healthcare Group
5600 S. Quebec St Suite 310-A
Greewood Village, CO 8011