Thanksgiving Day is a time to be thankful, a time to remember and to embrace those who enrich our lives. Amity Healthcare Group is wishing you hope, joy, peace, good health, and love on this Thanksgiving Day!

NATIONAL NEWS

CMS Issues Telecommunications G-Codes for Home Health Reporting
The Centers for Medicare & Medicaid Services (CMS) has issued
Change Request
12805 that creates new G-codes for reporting home health services furnished by telehealth and to revise original Medicare systems to process them without affecting payment to the home health agencies (HHAs).
In the CY 2023 Home Health Final Rule, CMS finalized the requirement for Home Health Agencies to begin reporting telecommunication visits on home health claims with a purpose to collect additional data on the use of telecommunications technology in home health. According to CMS, collecting data on telecommunications technology use on claims will allow CMS to:
Analyze the characteristics of patients using services provided remotely
Have a broader understanding of the social determinants that affect who benefits most from these services, including what barriers may potentially exist for certain subsets of patients.
Reporting from
January 1, 2023 to June 30, 2023
will be voluntary. However, beginning
July 1, 2023
, Home Health Agencies will
be required
to report visits conducted through two-way audio visual, audio only, and remote monitoring technologies using the following newly established G-codes.
G0320: home health services furnished using synchronous telemedicine rendered via a real-time two-way audio and video telecommunications system.
Short Descriptor: G0320: two-way audio and video HHS
G0321: home health services furnished using synchronous telemedicine rendered via telephone or other real-time interactive audio-only telecommunications system.
Short Descriptor: G0321: audio-only HHS
G0322: the collection of physiologic data digitally stored and/or transmitted by the patient to the home health agency (i.e., remote patient monitoring).
Short Descriptor: G0322: Home H physio data collec tr
The use of remote patient monitoring that spans a number of days shall be reported as a single line item reporting the beginning date of monitoring and the number of days of monitoring in the unit's field.
Home Health Agencies shall submit services furnished via telecommunications technology in line-item detail and each service must be reported as a separate line under the appropriate revenue code for each discipline furnishing the service.
Expanded HHVBP Model: PIPR


As the expanded HHVBP Model prepares to start the first performance year on January 1, 2023, the  Centers for Medicare & Medicaid Services (CMS) issued the November 2022 Pre-Implementation Performance Report (PIPR) to all active home health agencies (HHAs). The PIPRs provide HHAs with data on their quality measure performance used in the expanded HHVBP Model, with comparison to HHAs nationally within peer cohorts.
The PIPRs provide a preview of where your agency's performance falls in regard to the new baseline year of 2022, in advance of the release of the first Interim Performance Reports (IPRs) in July 2023.
The November 2022 PIPR is available to download from the Internet Quality Improvement Evaluation System (iQIES) and instructions on how to access the PIPRs are available on the Expanded HHVBP Model webpage, under Model Reports. In addition, you can also reference an on-demand video and downloadable resource, "Introduction to the Pre-Implementation Performance Report (PIPR)", available on the Expanded HHVBP Model webpage under Model Reports. The video is also available on the Expanded HHVBP Model YouTube channel.
Care Compare Update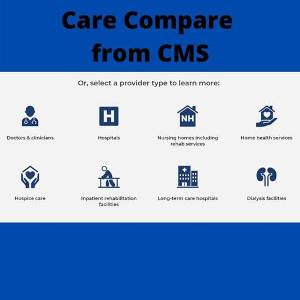 Long-term Care Hospitals (LTCHs)
Skilled Nursing Facilities (SNFs)
Inpatient Rehabilitation Facility (IRFs)
Home Health Agencies
Hospices
Dialysis Facilities
This update:
Provides additional information to support patients and caregivers as they make healthcare decisions.
Offers information about clinicians who aren't affiliated with a hospital but work in other types of healthcare facilities.
Creates additional quality information linkages between clinicians and facilities across Care Compare pages.
Shows Medicare beneficiaries and their families which home health and hospice providers physicians are linked to and includes details on affiliations with skilled nursing facilities (SNFs), long-term care hospitals (LTCHs), in-patient rehabilitation facilities (IRFs) and dialysis facilities.
Visit the profile pages in the Doctors and Clinicians section on Care Compare to view this update. The facility affiliations are displayed in a dedicated "Affiliations" section for easy access. Group affiliations will continue to be listed separately in the "Details" section as a fundamental part of a clinician's profile.The Centers for Medicare & Medicaid Services (CMS) updated Medicare Care Compare to include doctor and clinician facility affiliation information for the following facility types, as applicable (noting this is in addition to the hospital affiliations previously available):
COLORADO NEWS
Public Health Emergency Leave is Still in Effect – and has Expanded from Just COVID to Flu and RSV Too!


All Colorado employers, regardless of size or industry, still must give employees both (1) "accrued" paid sick leave (one hour per 30 hours worked, up to 48 hours a year), and (2) public health emergency ("PHE") leave (two weeks – 80 hours, or less for part-time employees) under the Colorado Healthy Families and Workplaces Act (HFWA).


Colorado's 80-hour PHE leave is ongoing: It continues as long as a federal or state PHE is declared (C.R.S. § 8-13.3-402(9)) — and while state public health orders have been scaled back, current federal and Colorado PHEs both remain declared.As of November 11, 2022, the conditions covered by Colorado's latest PHE declaration include health needs related to not just COVID, but also flu, respiratory syncytial virus ("RSV"), and similar respiratory illnesses. Those with flu or RSV symptoms already were likely covered as having COVID symptoms – so a key impact of this expansion may be that coverage remains even if testing confirms someone has flu or RSV rather than COVID. The expansion beyond COVID doesn't give employees an extra 80 hours for those conditions, it just means they can use their 80 hours for a broader range of conditions.
This 80-hour PHE leave will continue until four weeks after all applicable PHE declarations end or are suspended. Based on the current emergency declarations, PHE emergency leave will continue at least into February 2023 but will continue longer if either the federal or the state PHE declaration is renewed further into 2023. For more information on paid sick leave, please see the CDLE Division of Labor Standards and Statistics' HFWA webpage.
Amity's newsletters will be archived on Amity's Healthcare Group website at https://amityhealthcaregroup.com/resources  under  Resources/ Our Newsletter section.
Please do not hesitate to reach out for any assistance or questions via email, phone, or website at https://amityhealthcaregroup.com/resourcesIf you wish to forward this email to your colleague or friend, please feel free to do so. If you received this message as a forward, we invite you to subscribe to our communications at https://amityhealthcaregroup.com (look for "Subscribe to Listserv" in the top corner). If you wish to unsubscribe from this email distribution list, please email eg@amityhealthcaregroup.com
Thank you,
Irina Gorovaya, RN BSN, MBA
Amity Healthcare Group, LLC
Home Health Consulting, Education and Outsourcing Services
720-353-7249 (cell) 303-690-2749 (office) 720-398-6200 (fax)
www.amityhealthcaregroup.com

Confidentiality Notice:
The information contained in this message is privileged and confidential information intended for the use of the individual or entity named above.
Copyright © 2022 Amity Healthcare Group, All rights reserved.
You are receiving this email because you opted in at our website
Amity Healthcare Group
5600 S. Quebec St Suite 310-A
Greewood Village, CO 8011